Lucky
05. 05. 2014
Her name is Lucky and she is our first dog in a wheelchair. Lucky is a young dog, she was found on he street in 2012 when she was a puppy. A puppy covered with wounds with internal injuries, internal bleeding and trauma of the spine. The doggy was recovered but the ability to move on four feet has been lost for her forever. She changed the temporary homes for some time in order to find a family, who could take into account all her individualities and attentively accept the necessities. But the pets with the spine problems very rarely find homes, therefore Lucky, so to say, was stuck in promo stage. However the luck has smiled at her – we took her in 2014 to our big family and now it is hard to imagine that Lucky did not live with us before :)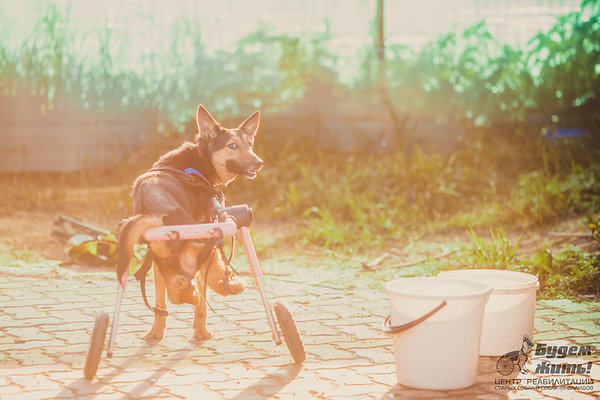 All that Lucky wanted she has got: friends, country house, lots of walk and attention to the particulars :) At first she had pink wheelchair in which she ran faster than the healthy dogs demonstrating admirable cheerfulness and bright temper. After some time the second wheelchair appeared – the gift from "Frakishtak" company – more solid one with the blue colour. :)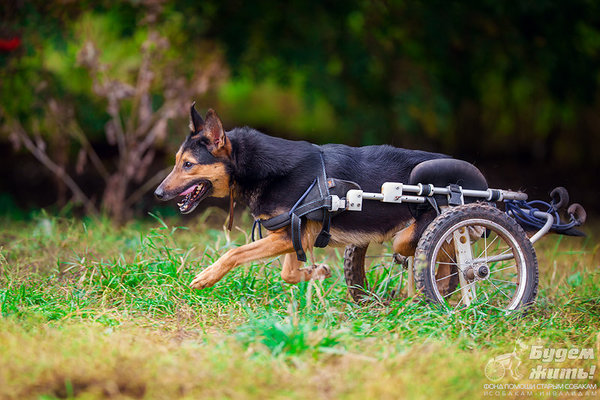 Countless funny stories are connected to Lucky's active style of life. I will never forget how she with whistling crossed the entire territory diagonally chasing the cat that jumped off the tree to Lucky's land. And she caught the cat. Caught the cat! Dog in a wheelchair! We saved the cat :) but the fact is unforgettable.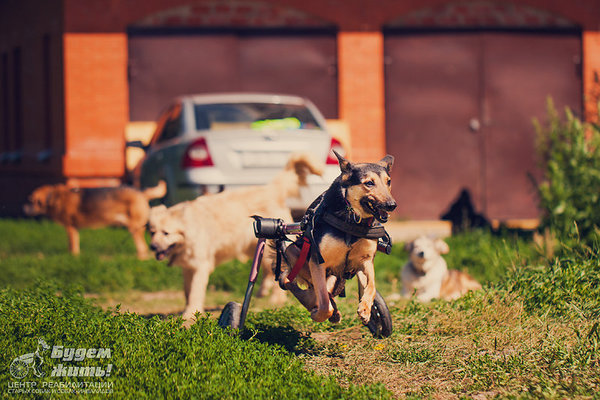 One more story: when one guy from village tried to shamelessly get into our territory during dog walking (the fence is solid, the person could not see the dogs on the lot), he got frozen. Lucky noticed him first; with the victorious "ATUUUUUU" she raised all dogs that were resting in the shadow of the trees and rushed up in the lead of the legion on her battle carriage straight to the poor idiot. He thought that Lucky is a forced guard dog which was equipped with the wheels for the speed. :) It was funny for us. But imagine how he felt when he saw the battle carriage ahead of one and a half dozen of running straight into him with unbelievable speed and loud barking dogs. :)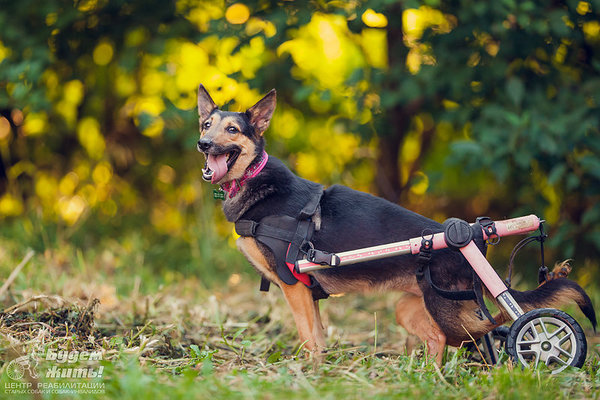 Lucky regularly goes out. The greatest pleasure for her is to socialize with people. It does not matter with whom – Lucky is confident that the whole world is her friends. She likes the car rides and attends different charity events. Such a social animal, at any event her behavior is always in accordance with the required status – Lucky easily can be joyful and serious, can focus and perfectly fulfills all requests to her, willingly poses for photo and video :) And certainly everywhere where Lucky appears children are attracted by her. She manages to play a role of the most positive dog in the world, licks kids' hands, carefully takes tasty food from them and blinks with the long lashes charming their parents :)
When the question raised on whom of our wheelchairers' to take to the shooting of program of Ivan Zatevakhin "Dialogues about animals", the answer came at once – certainly Lucky! She has inborn sense of the best camera perspective – nobody taught Lucky on how to work on camera A or camera B, but she is capable of doing this))) And Lucky always behaves at the film set, completes all editor's tasks and cameraman's wishes. When it is needed she will show the dynamics, if needed – calmly stands with the raised head, and very appropriately licks the hands of the anchor, of course :)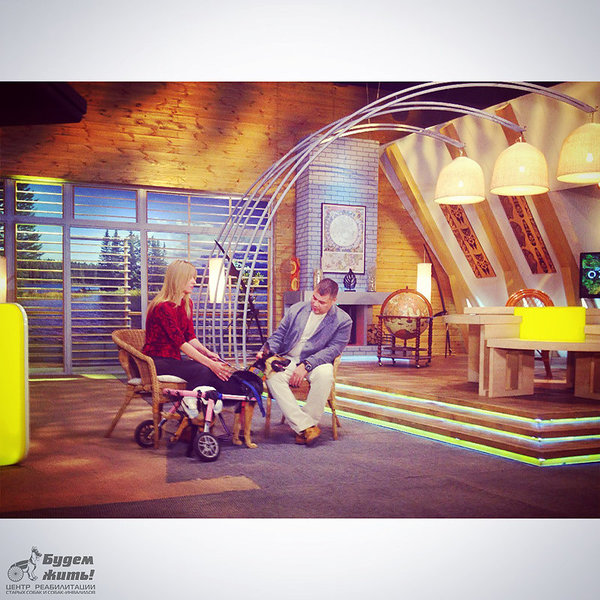 Also Lucky is a fashionista. She is a rich dog – she has thousand of outfits of different brands from the latest collections :) Several sewed on the order especially for Lucky collars, nominal – of course – address holder, bunch of shoes (which she does not wear). And she poses in all of this magnificence.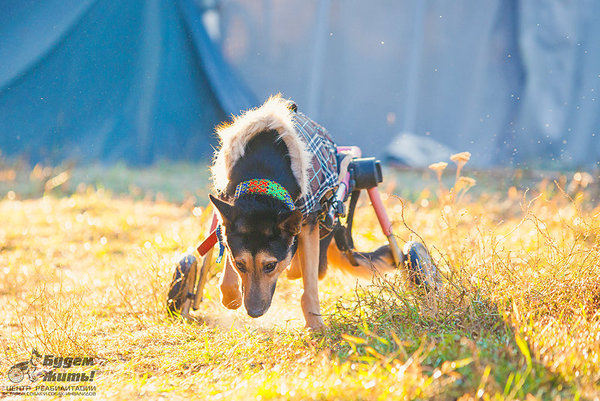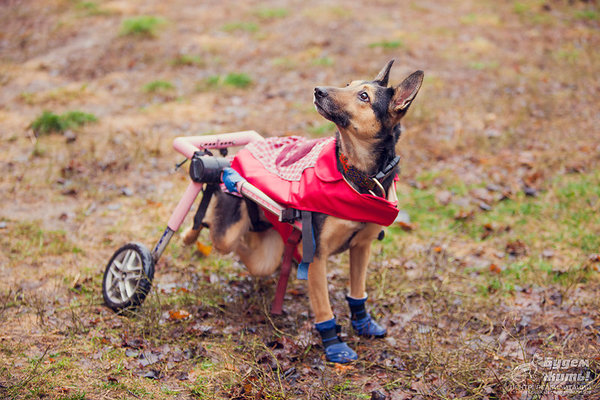 Lucky is pretty popular in web. She has many followers who give her interesting nicknames – for example, Flying Pink Carrier and Laka-Flyer.
And now let's look at the photos about her life. Here there are professional shootings and dilettante pictures in mobilephoto style – but all of them are obvious that this is not only alive but very happy dog.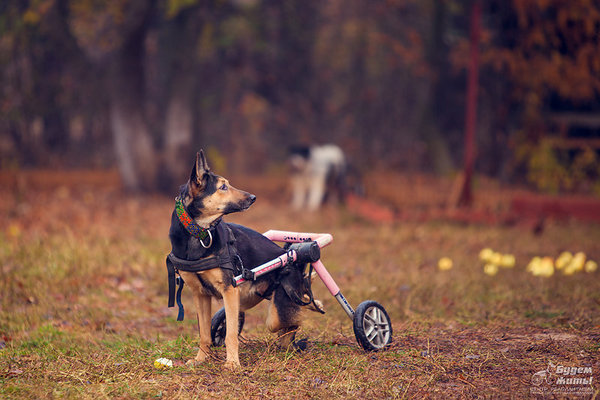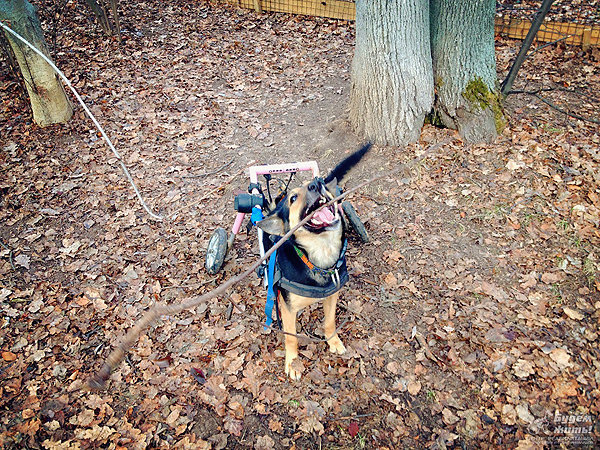 And here how Lucky runs in her wheelchair - http://www.youtube.com/watch?v=GeRvOv5_dZY